In Memory
William Carl "JuJu" Brown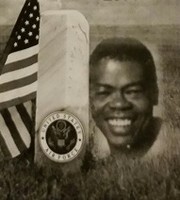 William Carl "Ju Ju" Brown was born Novembr 11, 1949 to Robert Brown and Beatrice Lagrange-Brown in Lake Charles, Louisiana. Both preceded William in death.
William entered the US Air Force and served his country in Vietnam. When he returned from duty, he resided in Los Angeles, California. He attended McNeese State University where he served as president of the Student Union Board. He earned his Master's Degree in Mental Health Counseling. During the course of his life "JuJu" became a noted entrepreneur, artist, director and an avid musician.
He leaves to cherish his memories, a loving wife, Sylvia; six children: David Brown, Tia Strawder, Shondrika (Roy) Lewis of Lake Charles, LA; Kenya Brown of Shreveport LA; Mark Strawder, Ntshona (Brian) Crawford of Houston, TX; four sistrs: Mary January of Baton Rouge LA; Verna Oliver, Debra Phillips of Houston, TX; Connie Jordan of Sherwood AR, a loving uncle, Phillip Robinson; and a host of grandchildren, aunts, nieces, nephews, cousins and loving friends. He was preceded in deathy by a son, Daymeion Zeno and daughter, Tara Strawder-Murdock.