In Memory
Johnny Lee Brown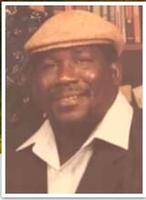 Johnny Lee Brown, Sr. "Bugger Red" 71, was born on April 12, 1949, to James and Mable Brown. A lifelong native of Lake Charles, Johnny was a 1968 graduate of Washington High School where he was an awesome football player. He loved sports and loved his former high school; he was an avid supporter of the 'Chargin' Indians.
For 49 years Johnny was married to Joan Brown. They were the proud parents of two sons Johnny Lee Brown, Jr. and Shannon Matthew Brown. A dedicated worker in the transportation field, he worked for Coca Cola for 7 years, Miller Lite for 21 years, and he retired from the City of Lake Charles after 20 years of service. This past year he worked for the Calcasieu Parish School Board as a bus aide.
Johnny is survived by his loving wife, Joan Brown of Lake Charles, La; daughter Lori Thomas; 11 grandchildren; 2 great grandchildren; adopted son, Andre Crawford; brothers, James Brown, Arthur Brown, Vernice (Sara) Payne, Jimmy (Wilda) Golden, Bobby Ellis, and Ertis Chambers; sisters, Joyce Randall, Shirley (Charles) Francis, Carolyn Lavan, Allisa Golden, and Loodia Golden; sisters-in-law, Shirley (Ronnie) Celestine, Kathy (Tommy) Geter, and Gayle (Sylvester) Smith; and a host of nieces, nephews, other relatives and friends who will forever cherish his memories.
Johnny is preceded in death by his parents, James and Mary Mable Golden; stepfather Bateman Golden; his two sons, Johnny Lee Brown, Jr. and Shannon Matthew Brown; grandson, Messiah Brown, and in-laws Geraldine and Kirby Veazie and Lester Simien.
A public visitation will be held on Saturday, August 1, 2020 at King's Funeral Home from 9:00 to 10:00 a.m. and private visitation for the family from 10:15 to 11:15 a.m., followed by a graveside service at Combre Memorial Park under the direction of King's Funeral Home.
For words of comfort, please visit www.kingsfuneralhomela.com