In Memory
Ernest McDaniel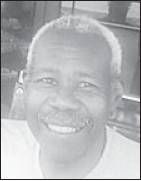 Ernest Darryl McDaniel was born April 15, 1950, in Oakland, Calif. He resided in Lake Charles most of his life, where he was a member of Reeves Temple CME Church and served in the prayer and men's choir. He was a graduate of Marion High School in 1968 and graduated from McNeese State University with a BA degree. He was a member of the Kappa Alpha Psi fraternity and the U.S. Navy. He departed this life on Friday, May 1, 2015, in a local care facility.
He leaves to cherish his memories one sister, Denise Elinor Spencer; stepsister, Brenda Jackson; niece, Chane'l Esters; and nephew, Andre Esters, all of Lake Charles; aunt, Betty Jo Caudle of Channelview, Texas; uncle, Earl Washington of Sacramento, Calif.; and a host of other relatives and friends, especially the Geyens.
He was preceded in death by his mother, Bernice Washington Williams, and stepfather, Edward Williams Jr.
His funeral will be held at 7 p.m. Tuesday, May 5, 2015, at Reeves Temple CME Church. Rev. Dr. H. Leon Williams Sr. will officiate. Burial will be in Hamilton Garden of Memory under the direction of James Funeral Home. Visitation will be Tuesday from 5 p.m. and dismissal Wednesday, May 6, 2015 at 10 a.m. in the church.